Udon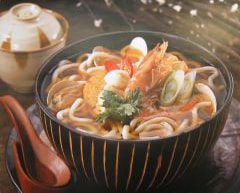 The texture and tenderness of udon noodles lend an authentic flavor to any dish. The easy to cook Hana Brand Hoshima Udon and Hana Brand Jumbo Udon that is packaged with an easy to use soup base are just a few examples of how our products have been chosen for their convenience for consumers. Issine Brand Odeng Set has been carefully chosen for its flavor, appearance and ease of use in a variety of ways. Assi Brand Mixed Seafood contains squid, octopus, mussels, scallops, and shrimp. It is convenient for use in seafood stews, seafood pancakes, and many other dishes that call for seafood.
Soak whole clams in a brine. Rinse shrimp in a brine.
Set into largish sizes. Briefly place each piece in boiling water.
Slice green onion on the bias and remove the soft leaves form a chrysanthemum for use.
Place whole clams in a pot of boiling water. When the clams open up, remove them from the water. Pour the water through a strainer and add soy sauce and refined rice wine to create a soup base.
Boil Udon.
In the water the clams were cooked in, add the shrimp and udon noodles. Salt and pepper to taste. Add the green onion and chrysanthemum and allow the soup to boil a little longer.
As a quick serving suggestion, try using prepared mixed seafood.
Korean Seafood Pancakes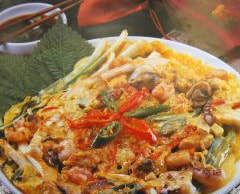 Assi Premium Wheat Flour is an all-purpose flour that has been carefully selected for its high quality. Assi Raq Oysters are harvested from shores of the Chungmu sea and are used in many dishes such as kimchi, Korean style seasoned spicy oysters, or simply eaten raw as a sashimi dish. Using Assi Rice Flour, made from premium rices grown in California, and Assi Frozen Seafood Mix are great for making dishes such as Korean seafood pancakes.
Add water to Assi Brand Premium Wheat Flour, Rice Flour, and Hot Pepper Powder to create a batter.
Wash and chop a green onion. Rinse Korean watercress in a vinegar solution and chop.
Cut Assi Brand Cleaned Squid length-wise. Rinse the squid along with oyster and clam meat in a very light salt solution. Dry thoroughly.
Add the cleaned squid, oyster, and clam to the batter.
On a hot griddle or pan, place a large ladle full of batter.
Before the pancake cooks through, sprinkle green onion and watercress uniformly. Flip and press gently.
Sprinkle hot peppers that have been cut on the bias over top the pancake.
When the pancake becomes golden brown in color, take a spoonful of beaten egg and pour evenly over the pancake. Flip and allow the pancake to cook through.